Angelica Oil
Source:
Dried rhizomes of Angelica sinensis
Extraction process:
Made by supercritical CO2 extraction
Active ingredient:
Ligustilide 40%
Product Description:
Yellow to brown clear oily liquid with special aroma of Angelica sinensis
The product has passed SC certification:
SC20144011600620, which can be added as natural flavor.
It can also be used as raw material in daily chemical products.
Product inci Name:
ANGELICA POLYMORPHA SINENSIS ROOT EXTRACT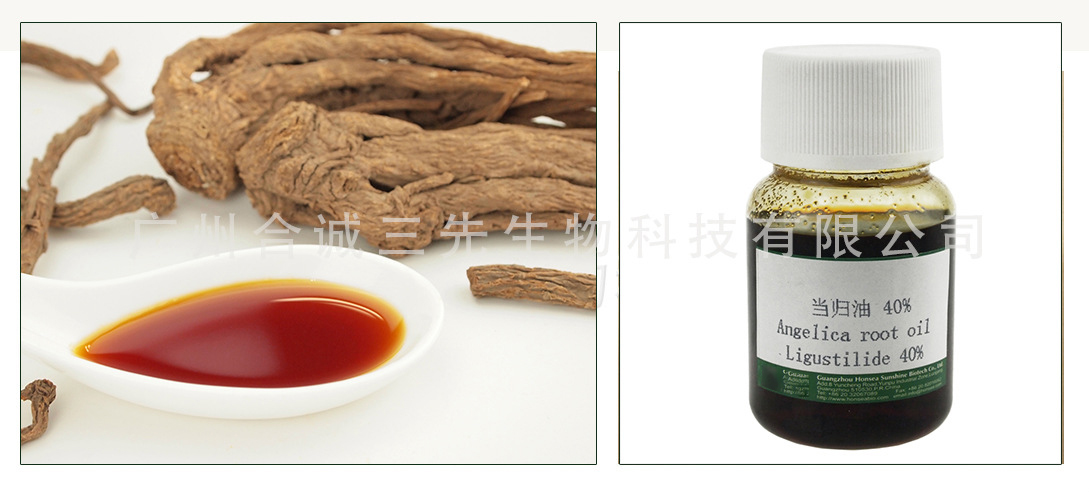 · Control from farm: organic or conventional environment friendly planting
· Full traceability
· Certifications: SQF, ISO9001, ISO2200, SC, NSF organic certified, kosher certified, Halal certified
· Declaration: EU regulation, Irradiation, TSE/BSE, etc.
· Testing and quality control:
Identification
Assay
Physical and chemical
Solvent residue
Pesticide residue
Plasticizer residue
PAHs
Heavy metal
Microbiology