Sea buckthorn fruit extract powder 10% Flavonoids
Extraction process:
SFE Co2 extraction + Water & alcohol extraction
Extracted from whole berry
Product features:
1. High purity: 10% total flavonoids
2. Nice and characteristic fruit flavor and taste
3. Great solubility in water
4. Fine powder
Recommended applications:
1. Functional food: prevents obesity and hepatoprotection, anti-inflammation, Stress reduction and cytoprotective effect
2. Skin care: promotes wound healing, antioxidant, anti-aging
Inci Name:
Hippophae rhamnoides extract
Reference studies:
1. Sea-Buckthorn Flavonoids Alleviate High-Fat and High-Fructose Diet-Induced Cognitive Impairment by Inhibiting Insulin Resistance and Neuroinflammation
https://pubs.acs.org/doi/10.1021/acs.jafc.0c00876
2. Influence of sea buckthorn (Hippophae rhamnoides L.) flavone on dermal wound healing in rats
https://link.springer.com/article/10.1007/s11010-006-9187-6
3.Seabuckthorn Polyphenols: Characterization, Bioactivities and Associated Health Benefits
https://www.intechopen.com/chapters/77352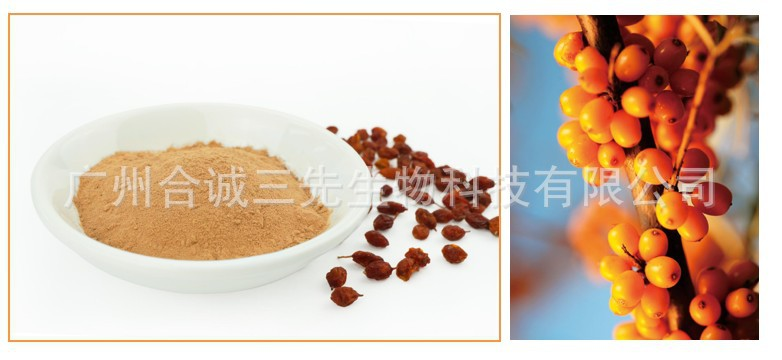 · Control from farm: organic or conventional environment friendly planting
· Full traceability
· Certifications: SQF, ISO9001, ISO2200, SC, NSF organic certified, kosher certified, Halal certified
· Declaration: EU regulation, Irradiation, TSE/BSE, etc.
· Testing and quality control:
Identification
Assay
Physical and chemical
Solvent residue
Pesticide residue
Plasticizer residue
PAHs
Heavy metal
Microbiology