SeabuPure?
Seabuckthorn Fruit Powder
Golden yellow powder obtained from Hippophae rhamnoides fruit juice by spray drying.

Product specification: 1% vitamin C
Product features:
√ Bright color
√ High vitamin C content
√ Good water solubility
√ Rich in various vitamins, trace elements,flavonoids, amino acids, soluble sugars and other bioactive substances
The product does not have the strong flavor of seabuckthorn oil from seabuckthorn whole fruit powder / freeze-dried powder.It is suitable for all kinds of food, beverage, meal substitute powder, candy,etc.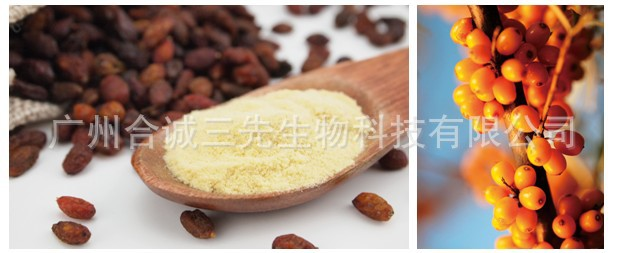 · Control from farm: organic or conventional environment friendly planting
· Full traceability
· Certifications: SQF, ISO9001, ISO2200, SC, NSF organic certified, kosher certified, Halal certified
· Declaration: EU regulation, Irradiation, TSE/BSE, etc.
· Testing and quality control:
Identification
Assay
Physical and chemical
Solvent residue
Pesticide residue
Plasticizer residue
PAHs
Heavy metal
Microbiology